ESTAPLACE.COM REAL ESTATE - FREE LISTING SERVICE

-

is an accommodation and real estate directory, where real estate property owners or real estate agencies connect with vacationers and home buyers worldwide. If you are a seller, you can add listings in few seconds, and if you are a buyer you can search listings to find your dream property!
Click here on these keywords for more properties: semalt, com
Trullo for sale in Ostuni, Apulia (Puglia)

(ref:: L2U5265) - This listing was clicked 1075 times.
The Rustic for sale in Ostuni is located in the Fumarola district, a high density resort and residential area.

Main features for this listing
Listing Updated:
25/March/2020 17:57:40
Country:
Italy
Region:
Puglia ( Read current articles. )
Property Type:
Trullo
Property Site:
Countryside
City:
ostuni
Zip Code:
72017
Address:

contrada fumarola

Vacation Property (for rent):
No
Construction Year:
2015
Surface Area:
2800
Bedrooms:
3
Bathrooms:
2
Number of Beds:
6
Energetic Class:
Not Available.
Energy Performance Index (IPE):
G


This listing is available also in: Italian


Description for this listing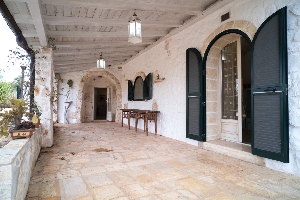 The Ostuni Domus real estate agency sells a tastefully renovated Trullo in the countryside of Ostuni in the Fumarola district with the possibility of building a swimming pool.

The Rustico for sale in Ostuni is located in the Fumarola district, a high-density resort and residential area, with rustic and prestigious farmhouses, within a few kilometers we find all the shops and shopping centers in the country.

The trullo in Ostuni for sale internally consists of: 3 bedrooms, two bathrooms with shower, kitchen with fireplace, wood oven.

Outside: patio, square of relevance paved with old chianche, 2800 sq m land planted with olive trees, vineyard, and various seasonal fruits.

A few kilometers away we find the most renowned historical centers of Puglia, the sea is only 10 km from the most beautiful beaches of the high Salento.

At Trullo it is possible to connect to the Apulian aqueduct. The house is sold furnished.

Excellent price.


Other features about this property, this features don't esclude more features.
Furnished, Alarm System, Washing Machine, Hotwater, Terrace, Internet, Private Garden, Private Parking


Extra Images (You can click on these images, to view them in the original size!)
| | |
| --- | --- |
| Pricing info and options for the listing | Other listing options |
| | |
| --- | --- |
| Contact Details | Property Owner Contact Form |
| | |
| --- | --- |
| Contact: | mariella |
| Telephone(home): | |
| Telephone(office): | 08311823528 |
| Telephone(mobile): | 3401223877 |
| Fax: | 08311823528 |
| Website: | www.ostunidomus.it |
[ USA -> CHICAGO -
25/January/2021 04:16:04
] We have
26291
properties listed. Yesterday traffic on Estaplace Real Estate was:
782
unique visitors with
68175
page views. To view more statistics
about Estaplace Real Estate
,
click here
.
| | | |
| --- | --- | --- |
| We accept, payments through bank wire, credit cards with PayPal for advanced services! | | |
Estaplace.com is a worldwide and international real estate directory, with thousands of real estate listings, divided into countries and regions. All material, the structure, and the layout on this site are © Copyright of Estaplace.com by Ceglia Giovanni located in Trento N. 74 Pal. I Street in Pagani(Salerno) - Italy. Italian Business Code: Partita IVA N. IT03972320653, registered in the "Camera di Commercio" of Salerno.

Estaplace.com is one the Ceglia Giovanni projects, started on 20 July 2005, and online since 20 August as a real estate platform for listings, mainly operating on the Italian and American/English market in the Internet, Estaplace would like to become the point of referiment for home sellers and home buyers, a site where private owners or real estate agencies can have the possibility to show their offers to the world. Estaplace.com is only one of the Giovanni Ceglia's sites. Everyday Giovanni Ceglia works to improve new Internet tools and services for online marketing and business. Estaplace.com will become the biggest portal for real estate business and investments online.