ESTAPLACE.COM REAL ESTATE - FREE LISTING SERVICE

-

is an accommodation and real estate directory, where real estate property owners or real estate agencies connect with vacationers and home buyers worldwide. If you are a seller, you can add listings in few seconds, and if you are a buyer you can search listings to find your dream property!
Click here on these keywords for more properties: semalt, com
Casa vacanza La Contesa

(ref:: L1U1435) - This listing was clicked 5445 times.
La Contesa è una Casa vacanze situata a 500 m. di altitudine nel silenzio e la quiete del monte Catria, una perla nel cuore del nostro Appennino Marchigiano nella provincia di Pesaro e Urbino.

Main features for this listing
Listing Updated:
20/April/2020 17:09:14
Country:
Italy
Region:
Marche ( Read current articles. )
Property Type:
Holiday Apartment
Property Site:
Mountain
City:
Cagli
Zip Code:
61043
Address:

La Contesa, località Acquaviva, 126

Vacation Property (for rent):
Yes
Construction Year:
2005
Surface Area:
Zona panoramica
Bedrooms:
2
Bathrooms:
1
Number of Beds:
4
Energetic Class:
Not Available.
Energy Performance Index (IPE):
Not Available.


This listing is available also in: Italian


Description for this listing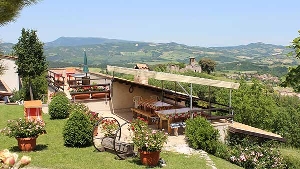 Ideale per il turismo ambientale dalla Gola del Furlo ai monti Catria Petrano
e Nerone, per il turismo culturale tra Urbino Fonte Avellana e Gubbio,
turismo gastronomico a Cagli e dintorni. Gli appartamenti sono totalmente
indipendenti e con ingressi separati, sono completi di lenzuola coperte
asciugamani e tovaglie con cambio settimanale, tv satellitare, internet ADSL e
WiFi illimitata, riscaldamento autonomo ed inoltre tutti gli accessori esterni
quali panche tavoli lettini ombrelloni barbecue terrazzo coperto parcheggio
coperto. Intorno Cagli, il profumo e i sapori di una tradizione eno-
gastronomica
capace di esaltare i prodotti della nostra generosa terra dalle mille atmosfere.
"La Contesa", incastonata tra Umbria e Marche, nella provincia di Pesaro
Urbino,
appare come un gioiello nel cuore verde del monte Catria. Un angolo di
storia, cultura e natura vicino a mistici borghi medioevali, strutture
rinascimentali, fasti imperiali romani e castelli o nelle case che ospitarono la
giovinezza di Raffaello, Bramante, Rossini. "Più cose in una sola vacanza": è il
motto che vuole riassumere la disponibilità de "La Contesa" per un turismo a
"quattro stagioni". Una proposta rafforzata da un genuino senso di ospitalità,
che trova nella qualità della struttura ricettiva la sua adeguata accoglienza.


Other features about this property, this features don't esclude more features.
Furnished, Hotwater, Linnen Supplied, Pet Friendly, Terrace, Mountain View, Internet, Fireplace, Private Garden, Private Parking


Extra Images (You can click on these images, to view them in the original size!)
Availability
Click here to check current availability: Availability


| | |
| --- | --- |
| Pricing info and options for the listing | Other listing options |
| | |
| --- | --- |
| Contact Details | Property Owner Contact Form |
[ USA -> CHICAGO -
25/January/2021 04:13:53
] We have
26291
properties listed. Yesterday traffic on Estaplace Real Estate was:
782
unique visitors with
68175
page views. To view more statistics
about Estaplace Real Estate
,
click here
.
| | | |
| --- | --- | --- |
| We accept, payments through bank wire, credit cards with PayPal for advanced services! | | |
Estaplace.com is a worldwide and international real estate directory, with thousands of real estate listings, divided into countries and regions. All material, the structure, and the layout on this site are © Copyright of Estaplace.com by Ceglia Giovanni located in Trento N. 74 Pal. I Street in Pagani(Salerno) - Italy. Italian Business Code: Partita IVA N. IT03972320653, registered in the "Camera di Commercio" of Salerno.

Estaplace.com is one the Ceglia Giovanni projects, started on 20 July 2005, and online since 20 August as a real estate platform for listings, mainly operating on the Italian and American/English market in the Internet, Estaplace would like to become the point of referiment for home sellers and home buyers, a site where private owners or real estate agencies can have the possibility to show their offers to the world. Estaplace.com is only one of the Giovanni Ceglia's sites. Everyday Giovanni Ceglia works to improve new Internet tools and services for online marketing and business. Estaplace.com will become the biggest portal for real estate business and investments online.